Oxford to Islip Paddle - DW Training
When we were all sat around in a warm cosy pub last October and after a couple of beers suggested we should do the Devises to Westminster Marathon, it seems liked a plausible idea. I mean, it is a kayak race, and we have paddled in kayaks, how hard could it be? After realising that the longest day of paddling (in the 4 day event) is 38 miles, we thought we would see just how far that might be. So on 17th January, still suffering from our Christmas binging, Kate Evans and myself set out on our first paddle of the year in sea kayaks leaving the boat hut and heading for Islip.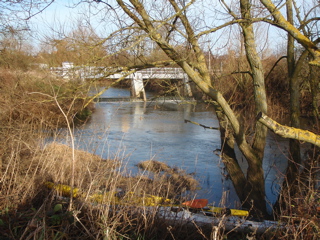 Sceptics said we'd never make it that far and would only get to The Victoria Arms in Marston, but after an hour and a half we breezed past The Victoria and decided to keep going, despite the inviting signs offering you good ales and food. The morning was windy but there was sun and a blue sky so it made it more enjoyable. After a winter of no kayaking it was good to be out on the river. We met some gondolas and lots of children waving at us, and it was quite pleasant navigating the Cherwell without a myriad of punts getting in the way. We managed to spot a kingfisher and a heron by the waterside, also enjoying the relative calm.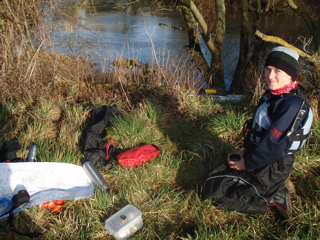 After the Victoria we went past some fisher men, and even rescued one of their floats which had tangled in a tree. It was this stretch of the river which was more winding and overgrown. Our sea kayaks had to make some tight corners and we battled through some quite impressive piles of rubbish, including doors, gas bottles, planks of wood, tyres, deflated footballs and strange brown foam. We used the skills we had picked up on Simon's 'Mystery Tours' to battle our way through the obstacles and continue of the other side. As we were going upstream at this point, the narrower passages made us work harder and we could see the flow coming towards us. After stopping in an eddy at a bridge to get our bearing, our OS map told us we only had a further 2km to go to Islip weir.
We made it, parked our boats in the slippy mud and had our lunch in a green, windswept field feeling very pleased that we had got so far in 3 hours after not being in a boat for quite a while. Not wanting to stand around now the wind had got up, we repacked the boats, seal launched into the Cherwell and this time it was all 'downhill' as the flow of the river, which had been tough to navigate on the way there, now sped us back downstream inpressively fast. Unfortunately, this didn't last long though as the wind had changed and it meant we had to paddle hard against waves to keep going. We met some canoeists near the Cherwell Boat House, but generally it was a quiet paddle back down to the boat hut and a sprint finish.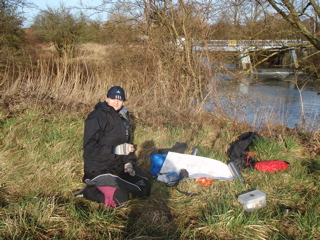 In total we did approximately 16 miles in just under 6 hours - pretty good for our first paddle of the year. We'll be starting our training over the next few months, in K1 racing kayaks hopefully and we'll be going downstream all the way, so watch this space for further adventures during our DW training.
-
Jen