Loire Trip, July 2007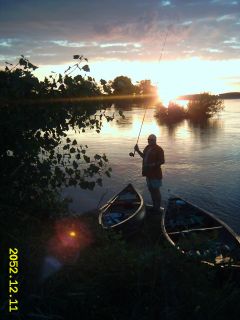 If you weren't there, come next year,
Pete, Philip, Penny and Willemina were here.
We watched stunning fireworks on Bastille Day,
then in the morning went on our Loire way.
Paddling in the rain but picnics always dry,
and all the fish passing Philip's bait by :(
Salmon steak, dry sausage and lots of French cheese
tasty rewards after the hard work on our knees :)
They may have left the kitchen sink at home,
but not the kelly kettle, table cloth, olive oil and comb.
A full English breakfast in the morning sets us up,
but help, we have no teabags left for our cup!
In sleepy French villages we shop and eat,
at night we munch bread from rye and wheat.
A night paddle after our last night out
caused a shoal of fish to jump like trout.
Pack the van and off we go,
there's more water in England, you know!