Sea kayaking in Greece, 10th - 19th September 2003
Wednesday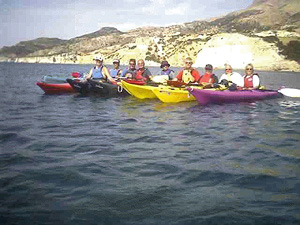 Mary, Pamela, Penny and Philip met at Gloucester Green coach station at 1.00 p.m. and caught the bus to Gatwick. After a flight of about 3 hours 30 minutes taking off at 5.30 p.m. we arrived in Athens at around 11.30 p.m. (2 hours time difference). We have a brief look round then got out our lilos, carry mats etc and bedded down outside the museum for the night. Very noisy airport with announcements all night about parking, security and safety.
Woken up at 6.00 a.m. by the security guards. Checked in our for internal flights about 8.00 a.m. to fly at 9.30, then when in the boarding area found out that there was a delay of about an hour so arrived on Milos at 11.30 a.m. Rod picked us up at the airport and took us to Petronella's B&B where we were to stay for our holiday.
Thursday
After freshening up we took a walk to the village of Mandrakis where we had lunch at the one restaurant, then swam and some snorkelled and sunbathed then returned to base for beer and a shower then off again to the local village for dinner. Found a large ironmongery shop with stock from the 1800's at least as there was so much (prices of many items still in drachmas). Back to the restaurant that Rob had recommended for dinner, then wearily up the hill for drinks at the B&B with a plate of nibbles, octopus etc.
Friday : Trip 13km/8mls
We went down to Firapotamos for our first paddle (Neil rushed from the airport as a late arrival and joined us for the day). From here we paddled to Trachiles round Arcadias where we stopped on rocks for lunch then walked up a goat track to the church. Paddled back. Sea was pretty rough on this day. Back to B&B for a quick turn around then up to Plaka for dinner up hill all the way, looked like nothing there. Mary asked local old ladies in Greek for a restaurant. Eventually got to a nice little street with restaurants. Mary and Penny got their postcards.
Saturday : Trip 15 km/9mls
Went to Pollonia a paddled to Kimolos via a smaller uninhabited island where we went snorkelling in caves and had lunch by small church and walked across to lighthouse. Lizards abounded and were very friendly as crawled on my foot and allowed me to pick them up and run on my hands. Paddled back to Pollonia, back to base and then down to local village for dinner and back for drinks.
Sunday : 12km/8mls
Off to Palaeohori, Firligos, Sulphur mine, Grandfather cave. This is south of the island. WE paddled along the coast with very picturesque cliffs and stopped for more training. Then we paddled onto the sulphur mines and further on to cave. Water was very blue especially coming out of the cave. Then paddled back for Sulphur Mine for lunch. We then paddled back past Palaeohori to the other side where the hot springs are. We swam into a cave where there is a natural sauna. Very refreshing. Then back to base where we had baklava. Then out to dinner at Erginas in Tripiti. Very good, lovely view over the sea and hills.
Monday (was to be our rest day)
Due to winds coming in we paddled west stopping for our morning break at Gerontas where Mary perfected her roll. We passed a large Greek ship taking pololinite for an additive to cement so it can set under water. Then we paddled on to Kleftico where there are 11 arches and several caves. We beached here and had lunch. Rod and I showed off our roll in the double on his bad side today. Then we went snorkelling out to Kleftico which set off my asthma so luckily could walk back when had swum back through the arch as quite shallow (well for me anyway, maybe not for Mary). On the return journey went in one cave, which was really blue, especially deep in where if you put your hand in the water it seemed luminous. On the way back Rod and I practised turning the double to find out the most efficient methods. Then back to B&B for a beer.
Tuesday
Overcast and raining a bit; had our day off and walked into Adamas calling in at the amphitheatre and catacombs on the way. Walked through Tripiti then down an old track to Adamas. Stopped for lunch and had a look at the shops. Then Neil and I opted to walk back and went up a different track to Tripiti and onto Triviaslios where the B&B was. Then off to Plaka to second restaurant up there for diner and a bit of tourist shopping.
Wednesday - 11km/7mls
Pravatas to Gerakas for lunch and on to Kelamos. Head winds all day paddled past a mine which mines for Perlite which is used for making cat litter. Passed a bay where mining waste was being pumped over edge of cliff, the sand from this made the sea a very translucent light blue. Then on to beach which has been improved by dumping mining waste (sand) (not improved really as filling up local cave). Then we paddled up to headland and through a tunnel to cross over to next headland where there were some very nice rock towers. Then back to Rod's favourite beach for lunch and swim around to a hot spring cave. Then head winds back to the beach and home. In the evening we walked up to the bar Utopia to see the sunset then on to restaurant in Plaka for dinner.
Thursday - 12km/8mls: Adamas, Klima, Fourkovouni, Plathiena
We paddled from the west side of Adamas along to just before Klima for our morning break. Very pretty little village which we had spotted when we went to see the catacombs. We then paddled along to Fourkovouni past some open catacombs where they have worn away with the cliffs. Then we paddled on round the headland where it got a little rough. Stopped on the beach for a swim and general short break then back round headland to Klima for our lunch stop. While the others trained Rod and I swam round the corner to collect sea urchins for lunch. Not many there so we went back and got our double kayak and paddled back to an old building where the crop was much better. We cut them in half with a special tool and cleaned them then took them back to the others for lunch. Then we paddled back to Adamas sadly the end of our paddling on Milos. On our return in the evening we went to the first restaurant in Plaka and had a really good meal to finish us off.
Friday
Then all too quickly the last day came, Mary, Neil and Pamela wandered down to the beach at Mandrakas where we sunbathed for the morning and had lunch at the only restaurant, Philip brought us loads of baklava which we hauled back up the hill. Taxis arrived and we were all too soon at the airport catching our local flight to Athens and then our connection back to London Gatwick and home late/early morning on the Saturday.
---
Neil's stuff
Rod Steadland who runs Sea Kayak Milos is an easy going (no worries mate) Australian who first got to know the island through his work, prospecting for gold. He met and married Petronela, a local girl so has an all round detailed knowledge of almost all aspects of the island. The bed and breakfast where we stayed is run by Petronela. It is simply furnished, clean functional and friendly. There is a bar come coffee house underneath where locals gather in the evening. One of the most enjoyable aspects of the stay was getting up for a leisurely breakfast eaten outside in the sun whilst watching the world go by. The B and B is located in a typical, non touristy street where people go about there daily business on foot, donkey , three wheeled scooter powered pick ups or old cars and even rotavators. Everyone is very friendly and welcoming.
The island is just perfect for sea kayaking although there is often a strong wind blowing, usually from the north east. If this is the case it possible to paddle on the lee shores. There is rarely much swell and very little tidal movement so no worries about being trapped in caves, tidal races or overfalls. The water is of course warm and clear. The Kayaks we paddled were of good quality as was the rest of the equipment and it was interesting to try a variety of boats.
The day would typically start at nine with breakfast then the trailer was loaded up by Rod and Greg ready to be away by ten o clock each morning. We would drive straight to the beach either in Rods four wheel drive job or a dilapidated old Peugeot. We would be on the water and away by about eleven. Then back in the B and B by about five ready for a shower, several beers and off for a pleasant walk to a wide choice of excellent restaurants and a fabulous sunset. What a hard life! I left the others and made my own way home via a ferry to Piraeus and the Acropolis which is well worth a visit.
---
Philips bits!
The B&B was very friendly, Rod's father-in-law was the official ouzo pourer, and rarely accepted payment, though we did manage to pay now and again! He fed us morsels of fish and squid with the ouzo which helped conversations flow. He also made a brilliant repair of my favourite sandals which had ripped apart descending the steep path from the church on Firapotamos.

Rod was a great leader, laid back attentive and provider of good snacks and local knowledge. On several of the trips we did some rock hopping and surfed some green waves, but the highlight of the trip had to be the blue, blue sea and superb scenery. We caused consternation on a nudist beach, approaching the remote site whilst most of the sunbathers were asleep- quite amusing when our landing woke them up!
It was a superb break, and well worth another visit, check out the website www.seakayakgreece.com.
---
Penny's Experiences
It was a great opportunity for me to improve! With much help from Pete and Philip, we covered 3* and 4* training with view to taking 4* sea kayak back in England. It was really useful, as we had to negotiate rocks and sea caves, with the waves lashing about them.
I loved the winding cobbled lanes, which wound up the hillsides - no traffic and really interesting looking at the different houses. Also looked in on an Orthodox festival. Great churches, with icons, pictures, ornate deco etc. The priests leading the service were trained singers - really interesting , the different music style verging on turkish style scales.
Liked the greek salads and the ouzo !