River Ock April 2005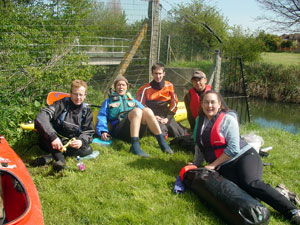 Six of us set off bright and early Sunday morning on our trip to the river Ock in Abingdon, my first proper outing. It was quite exciting until I saw the spray decks (I'm a spray-deck virgin) and the four foot drop into the river from the bank; daunting I think is the word. After abit of ungainly clambering, I was in. Paul managed the first dousing of the day with a seal entry. Unfortunately for him, it was not his last, I'm sure he will thank me for mentioning it!
Once we were all in our respective boats, two weekenders and two singles, we set off at a leisurely pace - swapping rivers half way. We stopped for lunch near what turned out to be Tesco's at the A34 turnoff - its funny how things look different from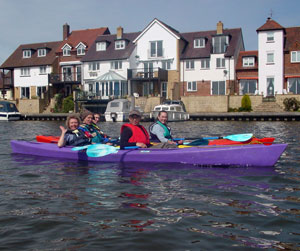 the water. Martin and Paul took on the first of two weirs and we all did the second; it was all of three foot high but good fun nonetheless. Later, we ventured into Abingdon marina, doing our best to avoid the rowing race that was in full swing. It was great to see the marina from the water, a view most of us will never be rich enough to experience from a yacht. We rafted up, took a breather and took in the view. After a while we headed back, to hot drinks and dry clothes. All in all, it was a good day - I had the stiff shoulders and sun burn to prove it!
- Claire Roberts