Kayak Pool Course by Sarah O'Connor and Joyce Bureau
Being upside-down in a kayak isn't a great deal of fun, and I hung there, really hoping to be rescued soon... I was, and emerged, a waterlogged and grateful guinea-pig, to find a Riverside instructor beaming at me and congratulating my rescuer.
No, this wasn't the chilly Thames. We were in Blackbird Leys swimming pool learning safety and rescue techniques: self-rescue, plus swimmer, bank and boat rescues. The Riverside staff were great and often gave us individual tuition. I'm the kind of person who panics in emergencies, so it was very helpful to know the procedures. If a real crisis happens I hope to remember enough to be useful!
Being upside-down isn't so alarming any more. In fact, maybe I'll do that rolling course as well...
- Sarah O'Connor
---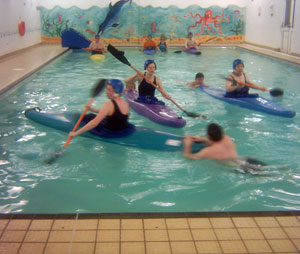 For the past three weeks, a small group of Isis Canoe Club members have been heading down to Blackbird Leys Swimming Pool for some additional coaching. The Riverside team have focused on teaching us key rescue skills to better equip us for the open water.
These have included Eskimo rescues, how to safely tow a swimmer on the back of your kayak, rescuing swimmers from the bank using flotation aids, ropes, paddles etc, and finally low and high braces.
It has been a fun few weeks and with each session, my confidence has increased making it extremely worthwhile.
- Joyce Bureau